The fruit of a full Career Assessment will be a Career Objective. It provides the direction you need as you plan your job-search campaign. It takes into consideration four Factors – your strengths, needs, values and the market-place.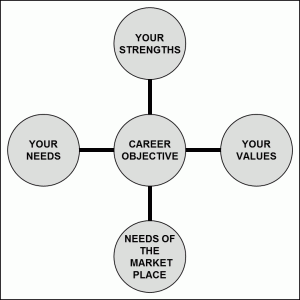 Your Strengths. The best way to assess your strengths is to look at your Career Achievements and identify the Business & Technical Skills, the Market Knowledge and the Characteristics you deployed on each occasion. Select a minimum of twenty achievements where there was a Situation you were presented with, where you took Action and where there was a quantifiable Result.  Make sure the achievement took place within one year.  Examine each achievement and pull out the dominant strengths which contributed to your success. Gather all Strengths together and you will be amazed at how several of these occur time and time again.
Your Needs. We all have needs. For example, all of us need to eat and have some form of home to live in! The majority of us need to earn money. Without an independent source of income, we have to earn a salary to pay for what we need and to put aside for when we are too old to work. Many of us will be responsible for others. Maybe we have wives, husbands, partners, children, parents or friends who we need to consider when deciding on our career objectives. You should think in the medium / long term and list what your needs are. You must choose a career which satisfies them!
Your Values. It is a poor person, indeed, who does not live their life by a set of values. We all have values whether they be spiritual, moral, political or concerning the quality of live. List the personal values that are important to you. You cannot successfully do anything which conflicts with these. The checklist in the link lists some values to choose from and you might include others. Your final list should not exceed the four which are most important to you.
The Market Place. Your Strengths should be directed towards satisfying a need in the Market Place. Conversely, your target market should satisfy your needs and values. Researching and identifying suitable scenarios is an ongoing process and never really ends. 
Make your Deductions.  Study all fours Factors.  Compare the needs of the Market Place with the Strengths you can offer. Juxtapose your Values against your Needs.  Start to draw your conclusions in preparation for the Second Step - Determining your Career Objective.